Hey bookworm!
It's all Goodreads' fault! I just can't help myself but put new books on my wish list when I discover amazing looking ones with a synopsis that makes the book sound worth to read! Ughhh….😂🤦🏻‍
Are you ready for seven extremely cute and romantic stories of my wish list?! *yeesss!* 🙆🏻‍💖
---
Nr. 1 – The Most-wanted-book
How could I not want "Always and Forever, Lara Jean" SOOOOO much??! I'm in love with this series and I NEED TO KNOW HOW LARA JEAN'S LIFE GOES ON … or even better which boy she'll finally pick!😉
Don't read the blurb if you haven't read part one AND two of the "To all the boys I've loved before" series – BIG SPOILER ALERT!
Lara Jean is having the best senior year a girl could ever hope for. She is head over heels in love with her boyfriend, Peter; her dad's finally getting remarried to their next door neighbor, Ms. Rothschild; and Margot's coming home for the summer just in time for the wedding.
But change is looming on the horizon. And while Lara Jean is having fun and keeping busy helping plan her father's wedding, she can't ignore the big life decisions she has to make. Most pressingly, where she wants to go to college and what that means for her relationship with Peter. She watched her sister Margot go through these growing pains. Now Lara Jean's the one who'll be graduating high school and leaving for college and leaving her family—and possibly the boy she loves—behind.
When your heart and your head are saying two different things, which one should you listen to?
(Source: Simon and Schuster Books)
I'm so freaking excited for this book to come out! So much has happened between book two and three! How does she treat Genevieve and how is she treated by her? Is she still working at Belleview's? Is she in touch with John or does he avoid her?
So many questions – hopefully this book will answer them all and even more!
---
Nr. 2 – Back to France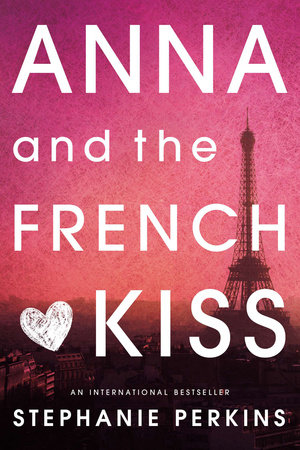 Anna is looking forward to her senior year in Atlanta, where she has a great job, a loyal best friend, and a crush on the verge of becoming more. Which is why she is less than thrilled about being shipped off to boarding school in Paris – until she meets Etienne St. Clair: perfect, Parisian (and English and American, which makes for a swoon-worthy accent), and utterly irresistible. The only problem is that he's taken, and Anna might be, too, if anything comes of her almost-relationship back home.
As winter melts into spring, will a year of romantic near – misses end with the French kiss Anna – and listeners – have long awaited?
(Source: Penguin Random House)
As you might know I totally fancy stories placed in Paris after reading "Just one Day" by Gayle Forman which was by the way absolutely great!
I hope that "Anna and the French Kiss" will be as charming, realistic and romantic as I expect it to be!
---
Nr. 3  – When a YouTuber writes a book (more or less)
You might have guessed right – I'm talking about "Girl Online" by Zoe Sugg aka Zoella.
Penny has a secret.
Under the alias GirlOnline, Penny blogs her hidden feelings about friendship, boys, high school drama, her crazy family, and the panic attacks that have begun to take over her life. When things go from bad to worse at school, her parents accept an opportunity to whisk the family away for Christmas at the Waldorf Astoria in New York City. There, Penny meets Noah, a gorgeous, guitar-strumming American. Suddenly she is falling in love—and capturing every moment she spends with "Brooklyn Boy" on her blog.
But Noah has a secret, too, one that threatens to ruin Penny's cover—and her closest friendship—forever.
(Source: Simon and Schuster Books)
This sounds like a real page-turner! Something you devour in one sitting cause it's so touching and thrilling!😻🙀😿
---
Nr. 4 – A lovestory I would probably die for
Signed, sealed, delivered… While spacing out in Chemistry class, Lily scribbles some of her favorite song lyrics onto her desk. The next day, she finds that someone has continued the lyrics on the desk, and added a message to her. Intrigue! Soon, Lily and her anonymous pen pal are exchanging full-on letters, sharing secrets, recommending bands, and opening up to each other. Lily realizes she's kind of falling for this letter writer. Only who is he? As Lily attempts to unravel the mystery, and juggle school, friends, crushes, and her crazy family, she discovers that matters of the heart can't always be spelled out…
(Source: Goodreads)
What a funny way to meet the boy of your dreams! It seems like a book which makes you addictive cause you don't know how or who this mysterious boy could be! I will surely love this book!
---
Nr. 5 – I feel my heart breaking
A story that sounds really heart-wrenching and tear-jerking: 👉
"This is what Happy Looks Like" by the same author is a book which I really enjoyed and liked! "The Geography of You and Me" itself has been on my reading list since it was published in German – but why not trying to read it in English, though?
This is what the book is about:
Lucy and Owen meet somewhere between the tenth and eleventh floors of a New York City apartment building, on an elevator rendered useless by a citywide blackout. After they're rescued, they spend a single night together, wandering the darkened streets and marveling at the rare appearance of stars above Manhattan. But once the power is restored, so is reality. Lucy soon moves to Edinburgh with her parents, while Owen heads out west with his father.
Lucy and Owen's relationship plays out across the globe as they stay in touch through postcards, occasional e-mails, and—finally—a reunion in the city where they first met.
(Source: Goodreads)
---
Nr. 6 – The book with the most likeable and funniest main character ever
First place goes to Chloe from "Top Ten Clues You're Clueless"! I fell in love with her just by reading the blurb and some reviews! And HOW AWESOME DOES THIS COVER LOOK LIKE?!
Top Five Things That Are Ruining Chloe's Day
5) Working the 6:30 a.m. shift at GoodFoods Market
4) Crashing a cart into a customer's car right in front of her snarky coworker Sammi
3) Trying to rock the "drowned rat" look after being caught in a snowstorm
2) Making zero progress with her crush, Tyson (see #3)
1) Being accused—along with her fellow teenage employees— of stealing upwards of $10,000
Chloe would rather be anywhere than locked in work jail (aka the break room) with five of her coworkers . . . even if one of them is Tyson. But if they can band together to clear their names, what looks like a total disaster might just make Chloe's list of Top Ten Best Moments.
(Source: HarperTeenHarperTeen)
But not just the fact that Chloe is such a cute and nice character makes the book readable – also the fact that there's this unsolved robbery which is set up to these teenage employees sparks my interest… #sherlockmode 🤓 I absolutely love conspiracy-stories!
---
Nr. 7 – A reading recommendation of a bookstagrammer
I got in touch with Olivia aka thebeautyofreading via Instagram and asked her for her favourite contemporary romance books – "The Fill-In Boyfriend" was one of her recommendations!
When Gia Montgomery's boyfriend, Bradley, dumps her in the parking lot of her high school prom, she has to think fast. After all, she'd been telling her friends about him for months now. This was supposed to be the night she proved he existed. So when she sees a cute guy waiting to pick up his sister, she enlists his help. The task is simple: be her fill-in boyfriend—two hours, zero commitment, a few white lies. After that, she can win back the real Bradley.
The problem is that days after prom, it's not the real Bradley she's thinking about, but the stand-in. The one whose name she doesn't even know. But tracking him down doesn't mean they're done faking a relationship. Gia owes him a favor and his sister intends to see that he collects: his ex-girlfriend's graduation party—three hours, zero commitment, a few white lies.
Just when Gia begins to wonder if she could turn her fake boyfriend into a real one, Bradley comes waltzing back into her life, exposing her lie, and threatening to destroy her friendships and her new-found relationship.
(Source: Goodreads)
Yep – second book of Kasie West in my Top 7!😅🤗 I need to read something of her asap! "The Fill-In Boyfriend" sounds like an amusing book with a lot of drama!
---
Huuuh… Enough books for today!😋💪
Have you read any of those books? Can you recommend me more books alike these?
Yours,